Our Locations
4275 Steels Pointe Rd.
Stow, OH 44224
330.923.0399
330.923.6677
4016 Massillon Road, Suite C
Uniontown, OH 44685
330.899.9650
330.923.6677
Audiologists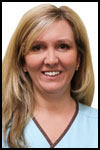 Heather Gentner, M.A., CCC-A is a licensed audiologist who joined Dr. Khalil in November 2006. Heather graduated from The University of Akron in 1992 with a B.A. in Communicative Disorders, and in 1994 she earned her M.A. in Audiology. While attending The University of Akron, she also obtained her Manual Communication certificate.
Heather has been in practice for 13 years. She has experience in auditory brainstem response, otoacoustic emissions, electronystagmography, diagnostic child/adult audiometric testing and tympanometry. In addition to her years of experience in dispensing analog and digital hearing aids of all types and sizes, Heather can also repair any make or model of hearing aid.
Donna Johnson, M.A., CCC-A
With more than 20 years of experience as a certified Audiologist, Donna Johnson utilizes her outstanding personal skills and strong observational assessment to provide high-quality support and care to patients and families. Her previous experience includes tutoring dyslexic students and serving as an Audiologist for Beltone Hearing Aid Center and Ear Inc. She earned her Bachelor's Degree in Communicative Disorders from Andrews University in Berrien Springs, Mich., and Master's Degree in Audiology from the University of Akron.